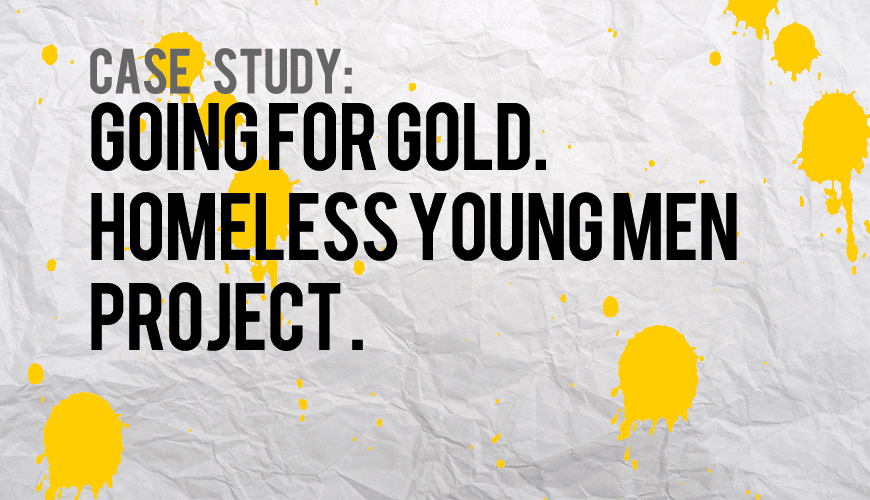 Case Study: Going For Gold – Working with homeless young men.
 Young homeless people living in shelters around Blackpool can have very difficult personal lives, and because of this, they struggle to reach their potential, can lose the confidence that is needed to get back on track. When a young person's self-esteem is low, they tend to avoid new things and find change hard; they can't deal well with the concept of failure and constantly comparing themselves to their peers in a negative light. Blackpool's primary care trust wanted to launch a worthwhile project that made a real and lasting change for some of the homeless young people in Blackpool.
The resulting pilot project worked with 12 homeless young men aged 16 – 25 over a summer programme that aimed to raise their aspirations and help them with better prospects in life. Twelve young people, each of whom resided in homeless shelters volunteered for the project which saw them improve their teamworking skills, leadership qualities, confidence and self-esteem.
 Key Outcomes:
Raised aspirations
Increased confidence and self-esteem
Increased motivation
Completion of a life plan with clear, achievable goals and targets
A decline in the use of drugs and alcohol
Increased physical activity
Improved use of contraception, particularly LARC (long-acting reversible contraception) and condoms.

2engage provided:
An original piece of theatre lasting 40 minutes telling the story of two young men who had very low self-esteem, confidence and as a result had little motivation. An aspiration-raising drama workshop session that looked at hopes and fears for the future and overcoming the barriers to making positive changes in their lives. Two participative forum-theatre sessions exploring risk-taking behaviour using local stories and how low self -esteem and negative cycles of behaviour can lead to drug and substance misuse. 2engage facilitators were present in supporting roles on other activities on the project.